I really love those shots where the photographer captures the moment of the husband placing the wedding ring on the wife's finger and you see her perfectly manicured finger nails.  Something like this: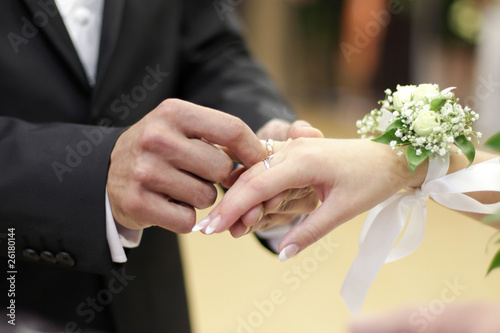 I'm a sucker for french manicures.  I think they are simple and classy.  I prefer it when it's short, not those long ones which makes me wonder if it's collecting dirt.  Point to note and to tell my cousin, french manicure for her wedding will be so glamourous.
And then, I went in search for possible nail designs for myself and the things I found out there has blown my mind.  All the amazing nail designs, some simple yet beautiful and some so creative, it makes you wonder how come such people aren't given Nobel prizes yet.  Haha.  Okay I exaggerate.
Photo credits: Nail Nerd + Pin Reach + Glamour + Create Eat Happy + Tattoo Designs
I could go on and on forever, adding more pictures here, but I have to force myself to stop.  And if you search "Wedding nails" on Tumblr, you'll find so many more amazing designs.  So many more to swoon over.  Who would have thought that something as small as finger nails would have such a great pull on me.